DFM A/S
Kogle Allé 5
DK-2970 Hørsholm
Denmark
Tlf: +45 7730 5800
E-mail: administration@dfm.dk
CVR/VAT#: DK29217939


The sessions are complimentary, but require that you register to help our planning.
Check out our calendar for updates.
DFM also arranges on-site knowledge sharing events, typically as a custom-tailored event, but also in connection with other third-party events.
Knowledge sharing events can be held in Danish and in English.
Examples of knowledge sharing sessions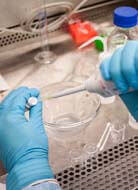 For your inspiration we have collected a few examples of knowledge sharing events below. Some events were hosted here at DFM, and others took place on-site. Do not hesitate to contact us to find out how your company or organization could benefit from a session.
How can your company obtain an accreditation, and why get an accreditation in the first place?
From where do the particles that pollute your production and lower the yield come from?
How to characterize and optimize functional surfaces?
What is metrology, and what does it all mean to your company?
Nano particles finding new applications in everyday life – Any reason to be concerned?
What is a meter, and why is it important to know what it is?
How to measure Ultre-Pure Water in your production?
New lighting sources and challenges to characterization
…and much more!