DFM A/S
Kogle Allé 5
DK-2970 Hørsholm
Denmark
Tlf: +45 7730 5800
E-mail: administration@dfm.dk
CVR/VAT#: DK29217939
certified electrochemical REFERENCE MATERIALs
DFM has been appointed as the Danish primary laboratory for electrochemistry.
Both large and small companies use certified reference materials (CRMs) from DFM to ensure traceability and to maintain quality in the production.
"Radiometer Medical ApS get traceability at the highest international level for a number of parameters from DFM.
This is essential to Radiometer Medical ApS so that we may defend our position as a leading company within blood gas measurements. The parameter pH is provided only by a few around the World with DFM's low measurement uncertainty."

Hans Bjarne Kristensen
Former manager of the metrology section, Radiometer Medical Aps

Aqueous potassium chloride solutions with conductivity in the range 0.01 S/m to 25 S/m.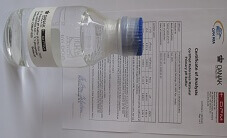 DFM offers pH buffers with typical values at 25 °C according to the scale shown below.