DFM A/S
Kogle Allé 5
DK-2970 Hørsholm
Denmark
Tlf: +45 7730 5800
E-mail: administration@dfm.dk
CVR/VAT#: DK29217939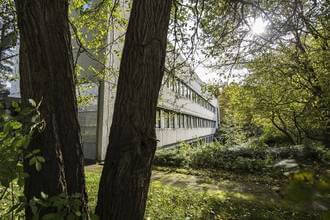 Here at DFM A/S, the Danish National Metrology Institute, we have for a long time experienced a growing interest in our metrological services and competences. At the same time, we have an ever expanding involvement in national and international research projects.
In order to support our activities and continued growth, we moved during 2017 to our present facility in Hørsholm, located a short distance from Copenhagen. Later, in 2019, we inaugurated the new wing where our thermometry laboratory and our administration now are located.
Our address is Kogle Allé 5, DK-2970 Hørsholm, Denmark
Our phone number is +45 7730 5800.
An overview of the DFM staff with contact details is found here 

For general enquiries and for invoicing, please contact administration@dfm.dk
Note: If you have microphones or other items within acoustics we need to calibrate, you may send them directly to our acoustical laboratory located on the DTU campus:
DFM A/S, c/o Acoustic Technology
Attn. Salvador Barrera-Figueroa
Ørsteds Plads 352
DK-2800 Kongens Lyngby
Denmark